My essay, "The Disenchantment of Civil Society in the New Global Postcolony," was just published in global-e, the online journal of the Global Dynamics Initiative based at the The Orfalea Center for Global & International Studies at the University of California Santa Barbara (UCSB). Their faculty cluster engages with project partners around the world.
It features the deployment of what I call "Female Genital Power" as a spectacular and ancient form of indigenous African civil society that has long served as a check on governance and to mobilize society in support of social justice.

Click link below to read the article.
https://www.21global.ucsb.edu/global-e/march-2019/disenchantment-civil-society-new-global-postcolony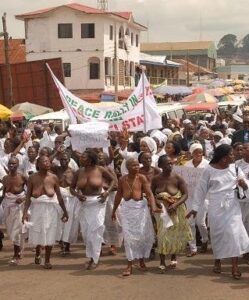 To view and read other of my articles and essays, Click the "Publications" tab at the top of the page.